ZWAR, Bergen auf Rügen.
Germany

Recovery of ammonium and relief of the biological treatment installation.
At the sewage treatment plant on the island of Rügen, the ammonium is recovered and converted into a valuable fertilizer
The challenge
The effluent from the digester of the Bergen auf Rügen sewage treatment plant creates a major load on the biological water treatment plant. This required an extension of the biological system. Byosis has an alternative solution for this by integrating the ByoFlex® ammonia stripper.
Our approach
By removing and converting the ammonium from the effluent from the digester with the ByoFlex® technology, the biological treatment installation of the sewage plant is now fed with effluent with >70% less nitrogen. Especially valuable in summertime when the load is high during the tourist season.
The system is easy to start up and shut down. When the sewage load is low in wintertime the installation can be stopped but is direct available on demand.
The results
The installation reduces the nitrogen load of the biological treatment. Additionally, this creates a valuable circular process. The recovered nitrogen is, as ammonium sulphate, reused by the farmers on the island as a fertilizer. This creates a significant reduction of the use of artificial fertilizers on the island.
Specifications and features
5 m3/hr system ByoFlex® system.
Build in prefab skids which form a closed building.
Minimal heat requirement due to heat recovery.
>70% less nitrogen load on the biological treatment.
Production of alternative for artificial fertilizers for local farmers.
Client

ZWAR

Location

Bergen auf Rügen, Germany

Website

-

Any questions?


We like a challenge! Do you've any questions about our systems or are you searching for a solution for your problem?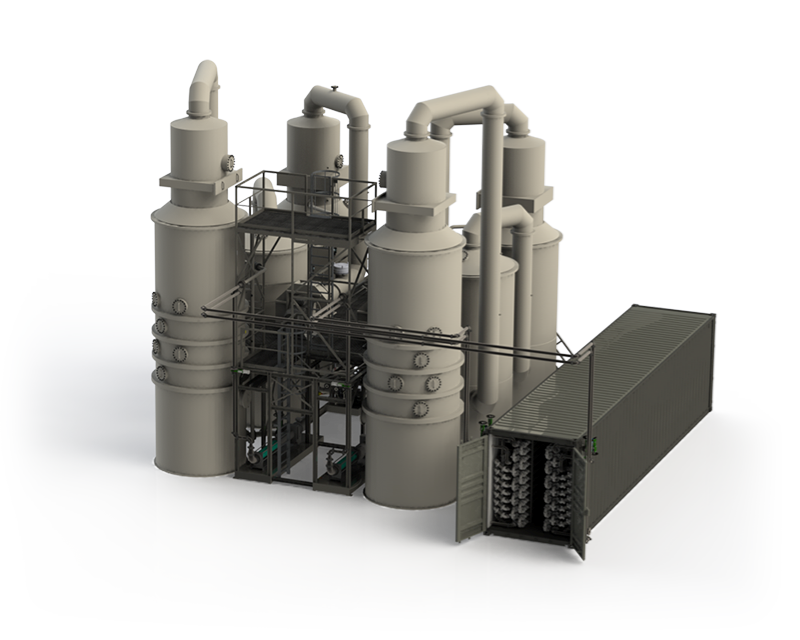 About the systems
3B Energie uses ByoFlex
Who's Byosis?
Byosis combines and translates her extended knowledge with digestion and fermentation processes into practical and feasible solutions. Byosis offers solutions that improve the efficiency and capacity of the digestion process considerably.